Ask any designer or artist and they'll stress the importance of a portfolio to showcase examples of their work. This used to be done with large A3 presentation folders showcasing their talents, which would be carried around to each client meeting and interview. With the online world constantly changing the way we do things it's no surprise that now even your portfolio can all be online and presented in the most elegant way to the world. No more hardcopies needed, simply send the link to your online portfolio to clients and/or prospective employers. And what better way to set-up an online portfolio then using the most popular CMS – WordPress.
WordPress' versatility means it's easily able to adapt to the needs of website owners, with a strong focus on creating themes to suit just about any niche. As such, WordPress has a great selection of Portfolio themes that can be used for anyone from web designers to photographers to showcase their masterpieces. The list before delves into 7 elegant WordPress Portfolio themes available.
At $43 for a regular licence, Agera is a fully responsive, elegantly designed online portfolio theme. It has an impressive list of features including – full screen design, two portfolio versions, gallery template, animated footer, customisable and so much more! The admin panel is easy to use which makes this template ideal for those with little tech experience.
It is ideal for photographers and designers wanting to showcase their work to the world. But don't take our word for it see a live preview of Agera Responsive Fullscreen Portfolio.
Origin is a highly customisable and adaptable theme to suit the requirements of any online portfolio. At just $69, you get to download not only the Origin theme but also 87 others – this is great value for money. The Origin theme comes packed with loads of features to create the portfolio you've always wanted. Featuring a fully responsive design, abundancy of theme options, large collection of shortcodes and pre-made page templates.
The grid-based design is an engaging way to showcase all your best work right on your homepage. This theme is perfectly suited for artists, designers, photographers and bloggers looking for a unique way to showcase their projects. See the Origin Portfolio Theme in action.
If you're after something a little more edgy and futuristic looking then the Jupiter Theme is for you! This fully responsive WordPress theme is highly adaptable featuring dozens of templates, easy to use admin panel, style and background customiser, edge slideshow, drag and drop creation, and over 300 other exciting features.
At $58, it's easy to use, easy to set-up and will have you owning your own online portfolio in no time at all. This theme won't limit your creativity with more features than you'd think possible available. It's received glowing feedback from users and is hands-down one of the most elegant portfolio themes available. See a live demo here – Jupiter Multipurpose Responsive Theme.
Salient is a great all-rounder Portfolio theme that allows users to create so much more than an online viewing gallery. Featuring WooCommerce and AJAX shopping cart, you can now also sell your work right through your own portfolio. Similar to Jupiter, Salient is an easy to use drag and drop page builder allowing even online rookies the ability to create something sensational. It's also fully customisable, has over 600 fonts, fully responsive, enabled with the premium nectar slider and SEO optimised.
This theme and all its extras is just $58. It has been downloaded over 23,000 times and received an impressive 5 stars amongst users. Being such an adaptable theme Salient's uses are limitless, but it would be ideal for artist who also sell their work directly to the public. To see it in action – Salient WordPress Portfolio Theme.
Arrow
Arrow is a super sleek and modern WordPress Theme, coming in at only $43. Like the other themes mentioned Arrow is also a fully responsive theme, making it easy for users to view on any device. It features a clean and premium design and would suit any designer or photographer looking to give their work a fresh promotion. It's design attributes feature the latest parallax scrolling and 10 different homepage versions.
See a live demo here – Arrow Creative One Page WordPress Theme
PhotoReactive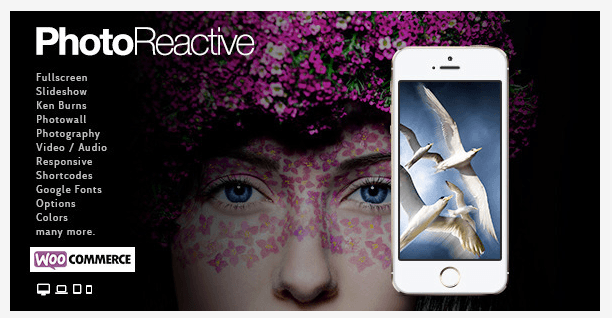 As the name suggests the PhotoReactive portfolio theme is made to showcase high quality images. It's feature list is impressive with an array of useful tools to create the perfect portfolio. Featuring a fully responsive theme, touch swipe slideshows, woocommerce ready and portfolio showcases. And all at a great price of $58.
Photoreactive is perfect for photographers but designers will also find its layout and design useful for promoting their work. 
Reflex
Reflex received an honourable mention on Awwwards this year and is becoming a favourite amongst users. Unlike the other mentioned themes, Reflex was designed with a specific target in mind – creative people and agencies. It follows a unique layout and simplistic design and features; drag and drop page builder, split scroll, responsive and retina ready, and quality design and code. Best known for it's 8 unique home variants Reflex has been voted an impressive 5 stars from users.
This is a truly impressive theme, that's easily adaptable to your design needs and only $53. It provides creative people the opportunity to showcase their talent through a unique portfolio. Here you can see a live version of the split scrolling option – Reflex Theme.
Wrap Up
As mentioned above, online portfolios offer creatives the ability to showcase their talent and work to the world. Some of the above themes even include an ecommerce store which allows users to sell their work online. Whether you're a photographer or designer there are many WordPress themes available to showcase your talents.