The most comprehensive toolkit for WordPress.
Automate your most common tasks and take control of WordPress instances remotely with the powerful new Plesk WordPress Toolkit
The all-in-one toolkit from Plesk gives you access to a range of quality management tools to help you install, mass-manage and secure your WordPress instances, plugins and themes remotely from a single dashboard.
Save time and money by automating your workflow and remove the stress of critical updates , too.
Best of all, it's included in every hosting plan at Conetix!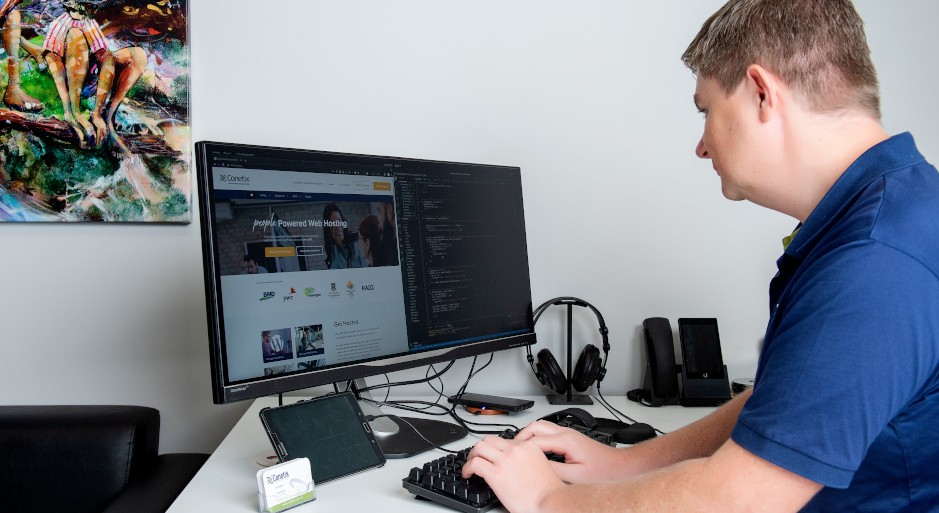 The Plesk WordPress Toolkit helps me to save time and remove complexity when dealing with multiple installations of WordPress.
David Turner , Wesley Creative Media
It's included, right out of the box.
When you host your website with Conetix, you get access to the Plesk WordPress Toolkit as standard. We believe that businesses of all shapes and sizes should be able to take advantage of the great benefits it offers. You're welcome.
Talk to our friendly team today for more information.
Next-level security.
Backed by experts
Implementing cutting-edge security recommendations from WP Codex and WordPress security experts across the globe, the WordPress Toolkit is next-level  security for your sites. No experience necessary.
One-click hardening
Identify and protect your core installations automatically with Plesk. Simply select the items you wish to harden, click "Secure", and it's all done. Easy!
Packed with powerful features for WordPress.
Making WordPress Easy
The simple one-click installer sets up and configures WordPress, while the single dashboard makes mass-managing multiple WordPress installations a breeze.
Takes the stress out of complex tasks
Remove risk and stress when staging, cloning, updating or syncing your WordPress instances with our one-click system.
Secure by design
The Toolkit's security scanner hardens your site and provides one-click access to better security. No experience required.
Mighty features, made easy.
Simple to use yet extremely powerful, WordPress Toolkit gives you complete control with debug management, maintenance mode, WP-CLI and search engine index management.
Powerful features for builders
Loaded with features to make your life easier, the Plesk WordPress Toolkit 5.0 is the ultimate suite of tools for building and managing sites with WordPress.
Seriously Green
Our Data Centre is the greenest in Australia. Even our Brisbane office runs on 100% Green Power.
Easy Installation
Spin up new WordPress installations with one-click from start to finish. Easy.
Theme & Plugin Management
Find, install and manage WordPress plugins across one or many instances to save you time.
Remote Management
Bring any WordPress instances on remote Plesk Obsidian servers right into your WordPress Toolkit
Backup and Restore points
Backup and restore points allow you to restore your site back to quickly and easily.
Debug Management
Backup and restore points allow you to restore your site back to quickly and easily.
Site Indexing
Enable and disable search engines not to index your site on a per-instance basis.
Maintenance Mode
Keep it professional and switch on maintenance mode with a single click when updating your theme or plugins.
WordPress Toolkit Options
WORDPRESS TOOLKIT SE
WORDPRESS TOOLKIT

Included with: Plesk Web Admin Edition

Included with: Plesk Web Pro Edition & Plesk Web Host Edition

Install new WordPress instances
Add existing WordPress instances (Manual)
Migrate remote WordPress instances
Cloning a WordPress instance
Staging environment
Sync data between WordPress instances
Security Check

Read only

Full

1-click hardening of WordPress

Only instances installed via the Toolkit

All instances

Mass management of WordPress instances
Manage plugins & themes
Updates for WordPress, plugins and themes

Manual Updates

Auto-updating

Maintenance mode management
Debug management
Password protection
Search engine indexing management